Enjoy some classic Japanese buffet food with a sukishi delivery
Relax and indulge yourself with a sukishi delivery
Sukishi is fresh and healthy, and that is why it has been capturing the hearts of buffet food lovers throughout the world. Whenever you need a sharing platter for yourself and friends or business associates, a light lunch, a delectable snack, or a romantic dinner, a sukishi delivery is a great idea. There are plenty of different sukushi options available on our site, so there really is something for everyone. Whether you want some vegetarian Japanese buffet food or something with your favourite type of seafood in, you will be able to find just what you need here. Why not order yourself in a wonderful Japanese buffet in Bangkok this evening for instance? At foodpanda, we make it our business to find you the very best sukishi from restaurants all around your local area, so that you can enjoy the indulgence and luxury of an expertly prepared restaurant meal in the comfort of your home.
Whether you want to grab a delectable lunch at your place of work to perk yourself up in the middle of the day, to create an amazing platter of food for a party in your home, or treat your partner to a classy candlelit dinner, a sukishi delivery will always give you just what you need. At foodpanda, we ensure that we make it as easy as can be to order a Japanese buffet in Bangkok right to your door. Just take a look at the menu, pick all of the options that you want, and let us know where you would like to have your food delivered to. We will do the rest. Check out our sukishi delivery menu today.
There are so many occasions that can inspire a sukishi delivery
When you just want to relax, treat yourself or celebrate a special occasion, a sukishi delivery is always a good idea. Because the process of ordering a takeaway Japanese buffet in Bangkok is so quick and easy, you can be sure that this is the recipe for a relaxing night or afternoon in. Just curl up on the sofa with a film or a good book, or take the opportunity to spend some quality time with your family or your housemates, safe in the knowledge that your food is being prepared for you and you do not need to move a muscle. Even better, when you order a takeaway, you do not need to wash up any dishes afterwards if you do not want to. Whether you are a master of chopsticks or whether you just want to eat with your fingers, it does not matter. This is your takeaway for you to enjoy as you please. So revel in the indulgence of a sujishi delivery and spend some time pampering yourself and savouring every moment of your meal.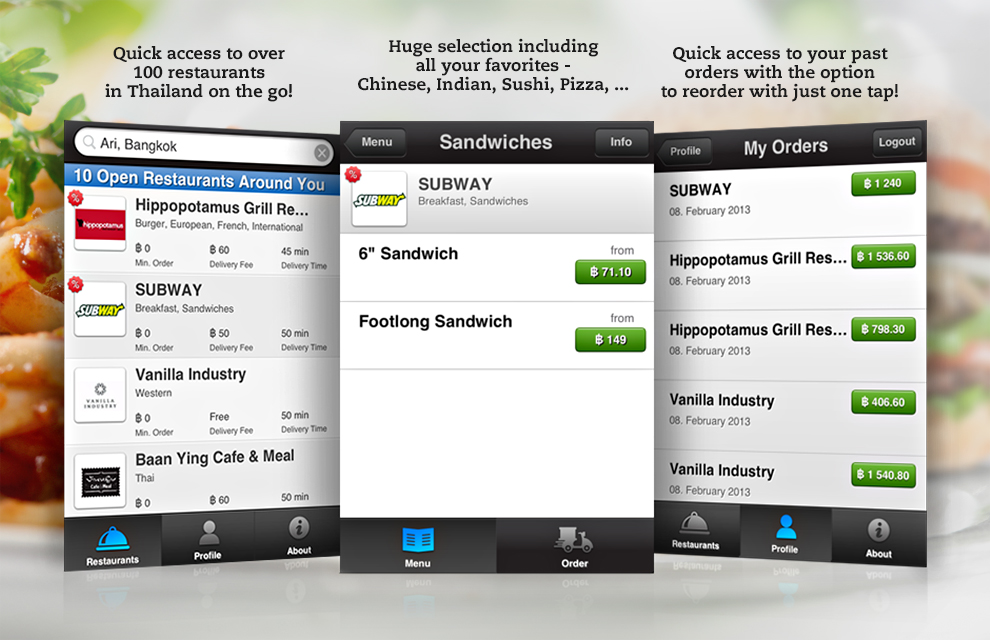 Order Sukishi delivery via foodpanda Apps!
Popular Restaurants